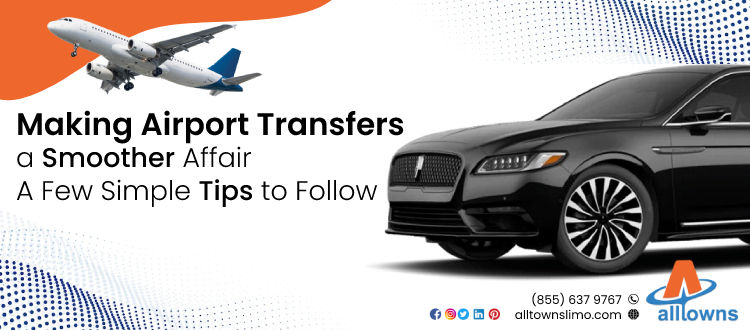 Making Airport Transfers a Smoother Affair – A Few Simple Tips to Follow
Travelling via flights is one of the best ways to get to our destinations quickly and in a hassle-free way. And when it comes to travelling via flights, the airport transfer service becomes one of the most essential concerns. Be it reaching the airport on time or leaving the airport in a stress-free manner, a good airport transfer service is an utmost need. Looking for a reliable Westchester County Airport transfer service?
Then take a look at some of the best yet simple tips besides hiring private airport transportation in CT to avoid the hassles at the airport and make it an easy affair.
Curtail Time Spent in Lines
While travelling through the airport, it becomes necessary for you to curtail the time that you may spend in lines. For that you will need to plan well before otherwise you may end up spending hours waiting in security lines and baggage checking. So it is advisable to take advantage of the pre-check services available which will ultimately cut back a significant amount of your waiting time.
Food and Water
The process at the airport can easily take several hours even if you have a short flight. From waiting at the airport to boarding the flight to getting to your destination, you will get hunger pangs and feel thirsty. Unfortunately, the nearby restaurants and shops that serve food and water have higher price tags! So if you neither wish to stay hungry or thirsty nor want to spend a hefty amount on food and water, make sure to bring your own snacks and a bottle of water with you.
Be Acquainted With the Security Rules
While flying through an airport, it is necessary for you to follow the rules set forth by the airport authority. Many people make mistakes like bringing larger toiletries and liquids that aren't allowed at the airport and wearing the wrong type of clothes that make it difficult for them to quickly get through the security lines. So avoid doing such mistakes and get acquainted with the security rules at the airport to avoid any undue delays.
Avoid Travelling during Rush Times
If you have the flexibility to choose your dates and times of travel, then you should make sure to avoid the rush times as much as possible. Usually, airports get overly busy a few days before and after the major holidays and also during the weekends. So it is always better to avoid these times of travel in order to avoid long lines and have an enjoyable flight travel experience.
Book your Airport Transportation in CT Ahead of Time
When you choose to travel through an airport, it becomes essential for you to ensure to schedule your airport car service HPN well in advance. Especially, when you are travelling to a big city like Westchester County, you will need to make sure to know how to get to and from the airport without any hassle. For that booking, your Westchester County Airport transfer service well in advance is highly recommended. You can book a black car service in Connecticut to make the airport transfer more enjoyable and comfortable.
Conclusion:
All Towns Livery is a highly rated Westchester County Airport transfer service offering reliable and affordable airport car service in CT for more than 10 years. To know more visit https://alltownslimo.com/westchester-county-airport-transfer-service/