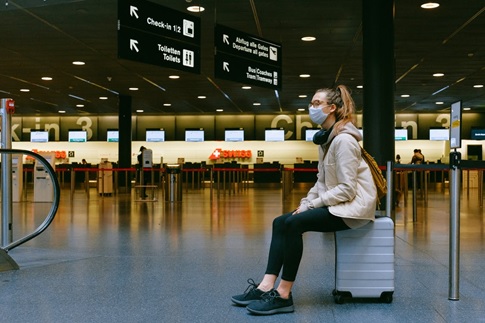 COVID-19: How to Stay Safe on Your Travels?
International and domestic travel restrictions have been put into effect to prevent the spread of the novel coronavirus. In fact, airports were completely closed for a while to prevent people from traveling from one country to another and possibly carrying the virus with them.
And while the travel ban hasn't been lifted completely, they have eased considerably. You can now travel domestically and internationally, but while following detailed SOPs regarding personal hygiene, social distancing, and sanitization.
If you can't avoid traveling at this time, the following are some safety measures you need to take to keep yourself safe:
Wash Your Hands Frequently
This is the most crucial step when you're trying to minimize the risk of contracting the virus. While traveling, you need to wash your hands frequently. But you also need to do it well; use soap and lather for at least 20 to 30 seconds.
If you're flying, you need to wash your hands after leaving the airport. In case you don't have soap and running water, use a 60% alcohol-based hand sanitizer gel for your hands and wrists.
Don't Touch Your Face With Dirty Hands
If you're in a public place, you need to be wary of touching surfaces. A great way to avoid contracting the virus from a public space is to not touch your face with your hands at any time, even if they're itching badly. Do not remove your mask to itch your nose or rub your eyes with unwashed hands.
Keep Your Distance And Wear A Mask
A face mask and 3-feet distance are your primary protectors against the coronavirus. If you notice a passenger sneezing, coughing, or showing any other symptoms, maintain a distance from them, as their respiratory droplets will carry the virus.
Avoid Public Transportation
If you're travelling internationally, you might not be able to avoid an aeroplane. However, once you reach your destination, you should avoid taking a shared cab, bus, or metro. All of these modes of travel will expose you to people who might not have been careful about their hygiene. They might be carriers of the virus.
Instead, opt for a personalized mode of transportation like an individual airport pick-up service that will take you to your destination safely.
If you're looking for an airport car service in Stamford CT, book a car with All Towns Limo. We provide an exceptional range of luxury car services, including airport service, corporate transportation, sports tours, wine tours, and more. You can visit our website or contact us at (203)-456-7000 to learn more about our services!