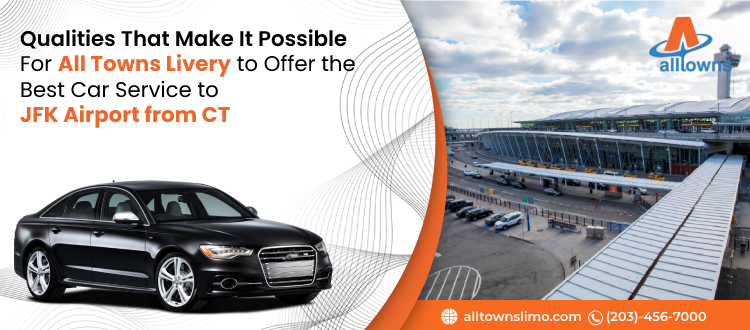 Qualities That Make It Possible For All Towns Livery to Offer the Best Car Service to JFK Airport from CT
There are many transport organizations in CT that you can contact to have an airport transfer. However, if you notice, people generally call us at All Towns Livery to have a professional airport transfer. Therefore, we today disclose our inherent qualities that make it possible for us to offer the best car service to JFK airport from CT.
Responsible 
First and foremost, all our drivers are responsible for carrying out their duties professionally and courteously. When you are in our car, and our driver is driving it, you can have peace of mind that you are in safe hands and the driver is taking all the responsibility to transfer you to your destination safely and in time. They will follow all the traffic rules and never break any. Moreover, we ensure that all our cars are properly sanitized and cleaned after each trip.
So, as passengers feel safe and comfortable traveling in our cars, they opt for us to have airport transfer services in CT.
Local knowledge 
All our drivers are local and have adequate knowledge about the traffic pattern, road diversions, and traffic jams. Therefore, they will avoid the congested route and take the shortest way to your destination so that you are not late to reach your place.
Patient 
When you have booked Black Car Service in Connecticut from us, you will never find our drivers to be grumbling for you arriving late. On the contrary, suppose you went to a restaurant to have dinner and spend some time more than expected, you can expect our drivers to be waiting patiently for you with a smiling face. This is because our drivers also understand the emotion of our clients and act appropriately.
Timely and honest
Having a point to point car service in CT from us, you will never find that you arrive late at a meeting venue or miss a flight. Our drivers come beforehand so that you will never be late. Travellers rely on us as we offer timely services. It will never happen that you miss to catch a plane or arrive at an event late due to any negligence from our side.
We are proud to say that all our drivers are honest. They will never ask for extra fare or tips. Of course, if you desire, you can offer them tips, but they will not ask for a single penny more than the exact fare.
Clean and hygienic 
All our cars are properly cleaned and sanitized before they leave our garage. We follow all cleaning and sanitizing methods as laid by the health department. Our clients can use masks and hand sanitizers kept inside the car. Our drivers also maintain the proper conduct as laid due to the COVID-19 pandemic.
Courteous
You can expect to have a courteous service from us. Our drivers will help you with your luggage or offer physical help if anyone in your group faces any problem entering or exiting the car.
So, as you notice, we make it possible to have a comfortable, safe and affordable journey, people prefer us, and we expect you to give us a call to have our professional and courteous services.